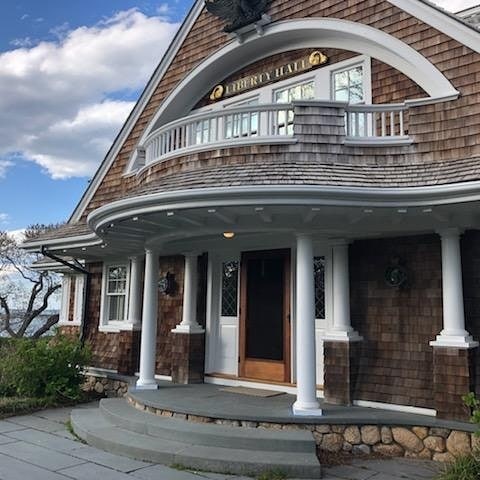 What is FiberGutter?
FiberGutter is a polyester resin based fiberglass gutter that is manufactured through a mechanical process called pultrusion. Years of development went into creating the most durable gutter system.
What are the Benefits of FiberGutter?
Aesthetics-Fiberglass Gutter has the appearance of traditional wood gutter
Maintenance-Fiberglass Gutter requires almost zero maintenance except cleaning
Strength-Fibergutter easily handles snow loads and you can lean a ladder against it
Longevity-Fiberglass Gutter carries a 50 Year Warranty
Where Can I purchase FiberGutter?

FiberGutter is available through a dealer network and directly to contractors and home owners outside of the dealer network throughout the United States and Canada. We ship throughout the United States, Canada and the Caribbean. We also have a list of approved installers that have been trained on the complete installation process by our staff.
How Much Does FiberGutter Cost?

Price varies depending on the scope of the project. Please contact us for pricing information.
What Length is FiberGutter Manufactured?

Our Fiberglass Gutter is manufactured in 16′, 24′ & 40′ lengths. For a full production run we can accommodate any length.
Some of our dealers offer cut lengths and 10 foot sections (10,20,30,40).
Through our seaming process the gutter becomes seamless upon installation.
What Other Accessories do I Need with FiberGutter?

We have a complete list of accessories on our MEASUREMENT FORM
How Many Miters Can I complete with the Gutterglue Kit?
The Gutterglue Kit includes 1 tube of Gutterglue, 3 Mixing Tips, 3 Tongue Depressors, Sandpaper, Fiberglass Tape and Basic Instructions. For Instructions: CLICK HERE
One Kit will complete 2 Miters / Seams. This will use about 2/3 of the glue cartridge. You can use the remainder of the glue for endcaps and outlets.
Can my Contractor Install FiberGutter?

Yes, we have painters, exterior contractors, general contractors, carpenters and handymen install FiberGutter. We even have the DIY homeowners purchase gutter and accessories to successfully install themselves.
How is FiberGutter Attached to the Fascia Board?
The fasteners is a 3 inch 316 Stainless Fastener that should be screwed into the back of the gutter at every rafter end.
What Profiles are Available?

We have the standard 4×5 and 4×6 replicas of the Boston Proper Wood Gutter.
We recommend installing a PVC or wood molding below the gutter at the time of Installation to achieve your desired appearance.
We also manufacture custom profiles and custom radius fiberglass gutter at our Halifax, Massachusetts location.
How Do I cut FiberGutter?
We recommend using a Standard 10″ or 12″ Miter Saw with a Non-Ferrous Metal Blade or Diamond Blade. See complete INSTRUCTIONAL VIDEO
What color is the gutter?
The gutter is manufactured in a UV protected white resin and we recommend painting with acrylic latex or enamel paint.
Most contractors will paint the gutter along with the trim. Paint on fiberglass can last 5 times longer than paint on wood. We recommend painting the gutter once it is installed to achieve the best overall appearance and minimize long term maintenance.
How are the seams assembled?
We have created a system to simplify the entire installation.
Please read our INSTALLATION INSTRUCTIONS for more details.